Thursday, June 15: Estelí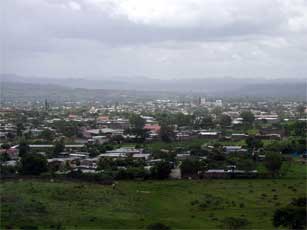 We woke up in the town of Estelí in Nicaragua's coffee growing area.
We went to visit the Fundación Entre Mujeres in their beautiful office in Estelí. Here Carlos, Juana, and the president Diana Martínez speak to the group.
Daisy, Ena, and Rosa Amelia tell us about their work in their coffee cooperatives. Irma shows us a quintal of coffee. And the obligatory delegation shot.
In the afternoon we went to visit the microcredit organization Women's Development Fund (FODEM). After talking to Carlos and Yadira in the office we visited some projects around town.
After a day of meetings we walked around a rainy town to see the cathedral and other sites of revolutionary interest, including the Leonel Rugama bookstore. Tomorrow we go back to Managua.

---