Family Photo Album
OK, so this is vain I know. But if you don't want to look at my family you don't have to come to this page. Just be glad I put all these big photo files here out of the way.

One little note of explanation. I'm not very good at scanning color photos. On the PowerMac at work, the colors just didn't look right. So I zapped the colors out and I thought they looked better. But now at home on my PC the grey scales look very dark and the one color jpg I have left looks just fine.

So, (isn't that absolutely annoying!) on what you like better. But you'll have to find where the color one is hidden, and hope your browser supports jpgs. Advice, votes, job offers, etc. can be sent to me at marc@ukanaix.cc.ukans.edu.

So, now on to the show!
---
My Family
Well, I suppose we should start with Cheryl and Koosa.
Cheryl claims that Koosa was around before me, but I really predate him by 3 months. As you can imagine, there is some competion between us. Cheryl and Koosa are always together, but that is why I am not in this picture. Cheryl is sad that we have to leave Koosa behind when we go to Ecuador.
Here is me, in case you were wondering what I look like. I am by the ocean. I like mountains much more than oceans.
Here is my mom and dad. They have a farm in South Dakota. That is why dad is in front of his brand new John Deere tractor.
Or at least it was new when this picture was taken. I forget when that was.
Wiren is my older brother. Everyone else calls him Dale, but we still call him Wiren. He is very smart. I could build the computer you are sitting at right now. That is Karen beside him. She is the only one who wants to move back to South Dakota and take over the farm.
The little guy between them is called Andrew, except when he was born Wiren called me and said "that is Sir Andrew David to you. Wiren first said that they had named him "Mark Alan Becker." I didn't think that was a very funny joke. Log on to AOL or look in the phone book and see how many Mark Alan Becker's there actually are in this world. It's a real pain, especially when the rest of them owe money and they come after you.

But I digest. Let's move on with the slide show. Here is my sis Cheri and her hubby Chris.
You should see their house. Several years ago Cheri went to Japan and Chris was so distressed he stripped all of the woodwork in the house and refinished it. It is a beautiful place. Half of our stuff lives there while we are off in California and Ecuador.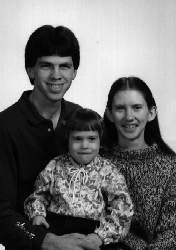 Ivan is my little brother. I have to keep reminding him of that even though he is a foot taller than me. He was the first one married in our family--by about 5 years. We thought he was crazy. But Darla is a wonderful person and we all like her.
This is Jordan Ashley. Ain't she a real cutie? We here she might get some sibs. Oh, I forgot to tell you. Andrew is supposed to get one too. I guess we will need to get new pictures then, eh?
---
Well, those were the people in my little nuclear extended family. Here is Cheryl's family.
I would let her tell you about them, but she is asleep right now so I will try. That is her mother and two brothers. Her brothers' names are Larry and Dan. She also has a Grandmother who they just call "Gram."
I guess if you want to know more about her family, you could just write her at musch@sekhmet.berkeley.edu.
---
Well, I hope you enjoyed the tour! Now, get outa here!
---
Marc Becker marc@ukanaix.cc.ukans.edu
Updated: August 22, 1995